Student portal
August 24, 2022
2022-12-27 22:10
Student portal
For a prolonged period of time, the students and staff of the Study Programme of Journalism and Communication Studies had been developing an idea of launching and running an instance of students' media, be it a student newspaper, radio, or portal. Given the substantial funds needed for realisation of the former two, the latter seemed the only logical solution in the era of new media and technologies.
The very idea was cemented during a productive discussion between Mr Borislav Vukojevic, MA (as the then editor-in-chief) and the management of the Students' Organisation of Faculty of Political Science. Despite different attitudes concerning some points, we agreed on the name of the portal: Student Portal Banja Luka (studentbl.com) and on the fact that the portal should gather all the students of the University of Banja Luka interested in creating and using it. With that in mind, it was not meant as a news bulletin of a single faculty, but as a means of providing informative, educational, and entertaining contents to the overall student population in the city of Banja Luka. The portal was officially established at the Staff Meeting of the Faculty of Political Science on 21 March 2018..
Beside the crew from the Faculty of Political Science, we actively cooperate with the Students' Parliament of the University of Banja Luka, since we have come to a conclusion that we need a single instance of media to provide information to student population in general, with a view to avoiding any conflicts that commonly arise between various students' organisations. Consequently, we have decided that the Study Programme of Journalism and Communication Studies should have the leading role, with all the interested parties involved in creating the contents. We insist on this term, as opposed to that of writing, since we are aware of the changes new technologies bring.
Given the aforementioned, we refuse to be a written-form exclusive type of media, thus embracing all the possibilities of multi-media expression. We are going to try and keep up pace with modern trends, developing video contents, infographics, and interactive maps, integrating potentials of social media in order to promote students' interests and needs.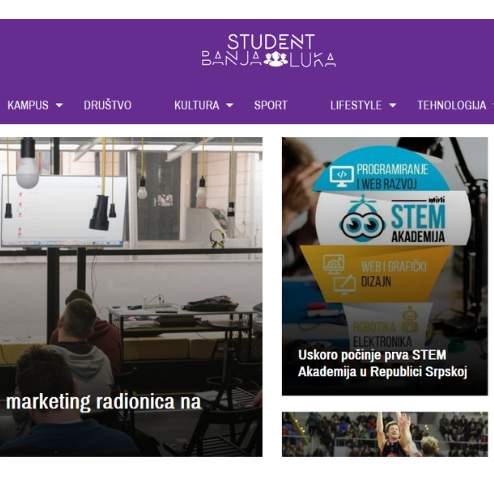 The StudentBL portal is a place where pieces of news, articles, reports, clips, and interviews concerning topics of interest for students are released, such as the following: scholarships, student jobs, seminar reports, talks with prominent lecturers – and much more. This portal is conceived as an address to discuss virtually all topics that students find interesting and amusing, starting from film and music, over information technologies, to sports and socio-cultural milieu. We are going to make use of every source of information available, welcoming all those with creative ideas into our team